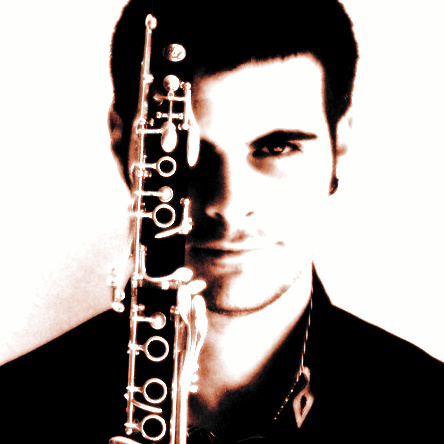 Héctor Abella was born in Burgos (Spain) in 1981. When he was ten years old his mother asked him to enroll the conservatory but he refused. Two years later he changed his mind and began his musical studies at the Conservatory of Music in Segovia. He continued his training at the Royal Conservatory of Music in Madrid (RCSMM), where he graduated getting the highest qualifications for clarinet under the tutelage of Professor Justo Sanz.
With the financial support of his parents and a grant from Madrid Government he pursued his clarinet studies at the Royal Conservatory of Brussels with Mr. Hedwig Swimberghe, achieving his Master with Distinction in 2006. That year he also got the Diploma di Merito at Accademia Chigiana of Siena (Italy) with Mr. Antony Pay. Later he gained a scholarship as winner of Ibercaja Young Performers Competition for attending a postgraduate course for Bass Clarinet specialization with Professor Henri Bok at CODARTS (Rotterdam, The Netherlands), where he successfully graduated in 2007. During his musical studies he also attended several master classes with other prominent clarinetists, such as Radovan Cavallin, Sylvie Hue, Fabio di Càsola, Karl Leister and Harry Sparnaay.
He was member of Castilla y León Youth Orchestra and the Contemporary Music Ensembles of the Royal Conservatories in Madrid and Brussels under the direction of Sebastián Mariné and Bart Bouckaert, respectively. He also worked with orchestras such as Jeune Philharmonie of Brussels, Flanders Radio Orchestra, «Odón Alonso» Orchestra of León, Burgos Symphony Orchestra and Castilla y León Symphony Orchestra, among others.
His interest in pedagogy led him to study Musical Teacher Training in parallel to his clarinet studies, graduating with honorific award at the School of Education in Segovia (University of Valladolid) in 2003. He has written his dissertation on clarinet multiphonics at University of Valladolid and taught clarinet at the Musical Studies Center CEM of Segovia and the Conservatories of Music in Salamanca, Palencia, Haro and Torrelavega. Currently he is clarinet teacher at the Conservatory of Music 'Jesús de Monasterio' in Santander, combining his post at conservatory with his performing activities as soloist and as a member of Amalgama Wind Quintet (with whom he played live for Spanish National Radio), ARSIS Duo with pianist Isis Pérez Villán, DÆXIS Trio (both of them with violinist David Otero) and SMASH Ensemble.